Skikido
January 23 @ 6:30 pm

-

January 26 @ 6:30 pm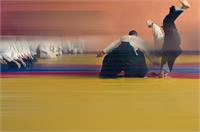 January 23-26, 2020
1/23 THU 6:30 pm
1/24 FRi 6:30 pm
1/25 SAT 1-5 pm
1/26 SUN TBA
Bring your GIS and your SKIS! All are welcome, beginner to expert, to attend Aikido classes at Jackson Hole Aikikai, and skiing at Jackson Hole Mountain Resort, from Thursday 1/23 through Sunday 1/26.
This Aikido Seminar will explore this modern Japanese martial art developed by Morihei Ueshiba. Aikido is often translated as "the way of unifying with life energy" or as "the way of harmonious spirit." This practice is effective at defending practitioners while also protecting their attackers from injury. Come explore this martial art, learn new self-defense techniques, as well as various effective ways to fall safely. Come see what Aikido is about within and beneath its physical expression.
This workshop will be led by Bill Plank. Plank Sensi holds the rank of rokudan, sixth-degree black-belt, and is a Shidoin instructor, registered with the Aikikai Hombu dojo in Japan. He has been a student of Clyde Takeguchi Shihan since starting Aikido in 1981. In addition to his black-belt in Aikido, Plank Sensei has a black-belt in Uechi-ryu, a traditional style of Okinawan karate, and he studies Tenshin Shoden Katori Shinto-ryu, a traditional Japanese weapons system, with Tetsutaka Sugawara Shihan.
FREE to watch
DONATION to engage!